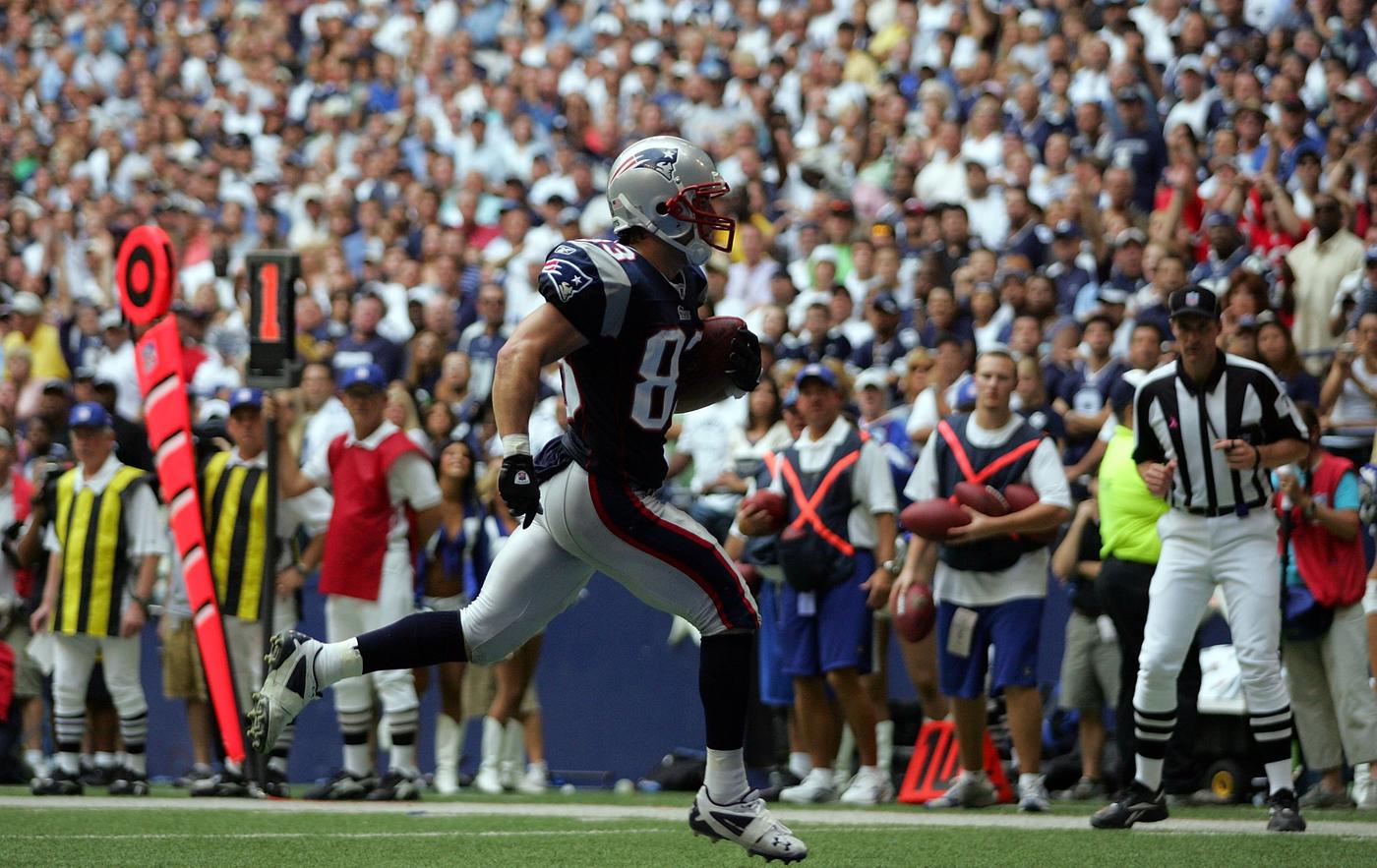 What have we said about the Cowboys throughout this year? They're terrific in the second half, capitalizing on enormous bruisers that wear people down. And any one of their receivers has the ability to take over a game in conjunction with the rest of the offensive unit.
Ouch. That can be an effective strategy when used against you too, can't it?
The Cowboys looked dead out of the gate. That was to be expected, they've been that way all season long. The 14-0 lead seemed insurmountable, however, when you consider that Dallas went three and out on consecutive game-starting drives. In fact, the fearsome Cowboy attack amassed negative yardage through their first 8 plays.
Yet somehow, they managed to make the game genuinely interesting for a while. They'd score 24 of the next 31 points, actually taking a 24-21 lead. At this point the fans were giddy, the players looked hopeful, and Bill Belichick stopped sullenly grimacing, and instead looked sullenly contemplative. For a very short while, anyway. Because the Patriots would score 27 of the next 30.
What happened? It's really quite simple. Dallas put up a great fight yesterday, but a couple of things buried them. First and foremost was allowing the Patriots those lengthy early possessions. I believe the Patriots reached 20 plays before the Cowboys had 10, and the Cowboys received to begin the match. The Patriot linemen wore our rushers down to their last breaths, and their receivers turned our secondary players' legs to grape jelly.
Additionally, these penalties have got to stop. The Cowboys' red zone woes were largely brought about by Flozell and Company, as our team regressed by
98 yards
spread over 12 plays. One play represents the struggle with the zebra-men best of all: 31-24 New England, 4th and one. Marion Barber powers his way to a first down, and the Metroplex rises in glee. But a few seconds later, we vent our fury to the huddled masses following the game through media mediums, as the play is undone with five additional necessary yards, via a holding call. Dallas was forced to punt, Brady led the Patriots down the field for another score, and the Cowboys never got closer than 11 points.
Speaking of 11 points... what the
profanity
was up with going for a field goal down 14 in the 4th? Under that logic, you'd have to completely and utterly stifle the Patriots twice, which you have shown no indication of being able to do- then come back and score two more touchdowns. What the hell are the chances of that happening? On 4th and goal at the 4 against this opposition, you've got to go for that every single time. I consider myself as die-hard and faithful as any Cowboys supporter, but at that point I turned away from the CBS coverage in disgust and took out my frustration on the Madden-rendered Patriots.
What was good last night? Our running game and our run defense. Barber and Jones rushed only 14 times, mostly due to being behind for almost the full extent of the game. But those 14 rushes resulted in 98 yards, for an average of 7 yards an attempt. On the other end of the ball, Patriot backs rushed 26 times for only 70 yards- less than 3 an attempt. That same sort of play will be very important against the Vikings next week, as they're a team that heavily relies on the running game.
Random observations
This team badly needs Anthony Henry back.
So much for the fabled matchup of 81s. Barely 130 yards between them.
Demarcus Ware is a truly premier defender. I love this man.
Why was the Romo-Witten connection so intermittent? Our QB went to our TE twice at the end of the second, both very successful completions. But the ball barely got near him through the other 59 minutes.
The secondary got burned time after time, but for once it wasn't really Roy's fault.
The Patriots seem to force deeper kickoff than us.
Terrence Newman probably should have waited for that plantar fasciitis to fully heal. He looks slow, and what is he without speed?
Better luck next week.